For the last month or so we've been studying opera, and Dad was able to get tickets for us to see
The Barber of Seville
at the Newberry Opera House on January 31.
We were seated in a group together on the third and fourth rows. We had a perfect view of the stage, the conductor, the orchestra pit, and the English subtitles above the stage. We knew the story so well we didn't need the subtitles, though.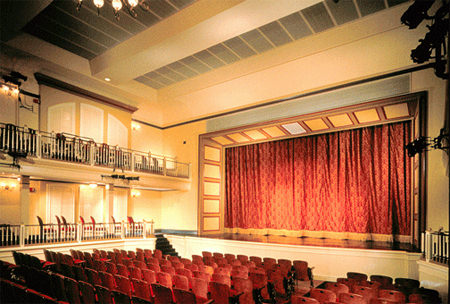 Our professor,
Robert Greenberg
, Ph.D., University of California, Berkeley, San Francisco Performances, recorded thirty-two lectures for The Teaching Company entitled
How to Listen to and Understand Opera
. Before the performance, we skipped ahead to watch his lectures on
The Barber of Seville
. We had already seen it on DVD, so we were well prepared and excited for the big night!
When Sarah Grace told Billy on Skype that we were going to the opera, he exclaimed (cue thick British accent), "Oh WOW! You have to get those binoculars on a stick!" Of course, he was being funny because he knows they are called opera glasses. Nevertheless, to continue the gag, John made her a pair out of field glasses, a dowel, and masking tape. She loved them.
To commemorate the event, we took a picture, and it turned out so good we decided to make it our album cover:
We looked good. Sarah had her Zelda Fitzgerald on:
We had our Blue Steel happening:
Mom wore her full length black coat over black crepe with black
peau de soie shoes and black opera gloves. She said she felt like Darth Vader.
After a month of eager anticipation, we were thrilled when we finally arrived at the opera house! We were amused at the number of attendants, known as opera house ambassadors. For awhile it seemed the ambassadors might outnumber the audience members.
Shortly after we were seated, the orchestra started tuning their instruments, and we recognized the melodies from different arias. When the familiar overture began, some of us felt like crying. Actually, some of us did cry... a little.
The performance was fantastic! The sets were realistic and attractive, and the costumes were colorful and interesting. Without trying to sound like opera snobs, the singing was good but the acting was magnificent. It was FAR better than the DVD performance. Figaro was charming and witty, Rosina was sparkling, Almaviva kept it funny and interesting... but Doctor Bartolo stole the show! Doctor Bartolo's timing and comedic physicality were beyond compare. We were left wanting when the performance ended, as we could have enjoyed the show for hours on end.
While Dad was bringing the car around, we had the good fortune of seeing the Factotum himself in the lobby! We were star struck, and timidly tried to eavesdrop on his conversation to no avail since we didn't speak the language. We're not even sure what language he was speaking! What difference does that make? We've been singing in fake Italian ever since that night!
The Allen family has a peculiar gastronomic phenomenon: prior to an especially exciting event, we can't eat! Consequently, after the opera we were all famished. Of course, everything was closed at that hour, so what better way to wrap up such an elegant evening than to indulge in Waffle House cheeseburger and hash brown take-out!
Holly Golightly would be proud.