Since my grandmother's health has deteriorated, my brother Will decided to stay with her and help over the summer. Even though Mom and I relieve him periodically, he needs to be there for the most part to lift her if need be. I love seeing how well he takes care of her and tends to her every need, and how gentle he is when doing so. Every morning, not only will he pick what top and pants for her to wear, but also which socks and underclothes! And no one can fix her hair as well as he can.
Lately, I've been thinking Will should become a nurse. Growing up I never thought I'd say that, as Will was the "problem child" and an occupation that requires selflessness seemed like the furthest thing from his personality. However, when he was about ten years old, he took on the responsibility of caring for our developmentally delayed brother, Webb, without even being asked. He began feeding him, giving him baths, and changing his diapers once he noticed Webb was getting too heavy for Mom to carry during her pregnancy with John. She tried to take back the responsibility after John's birth, but Will wouldn't hear of it. He knows Webb better than anyone in the family, and he immediately understands what he needs while the rest of us stand around scratching our heads. Now that Will has been with our grandmother, Spencer and James have taken over caring for Webb.
Will has transformed into a wonderfully thoughtful and caring person when it comes to the elderly, the sick, and even injured animals. It has truly been a blessing to behold.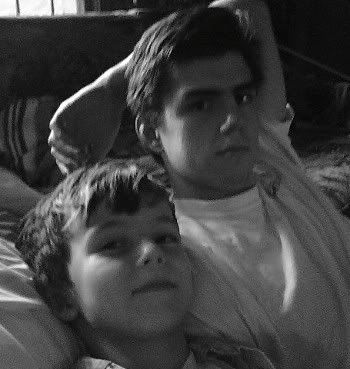 Will and George