Here we are at the stadium:
Here are the alligators and turtles we saw at Lake Alice: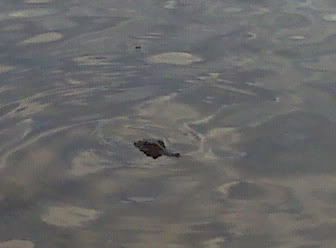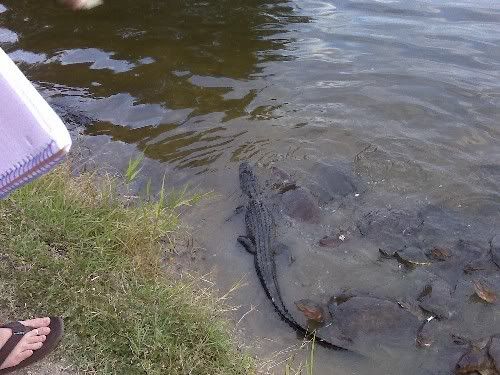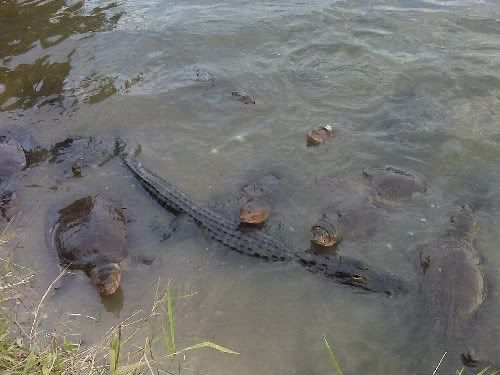 Here is the map I got at Corky Bell's so you can see where we went: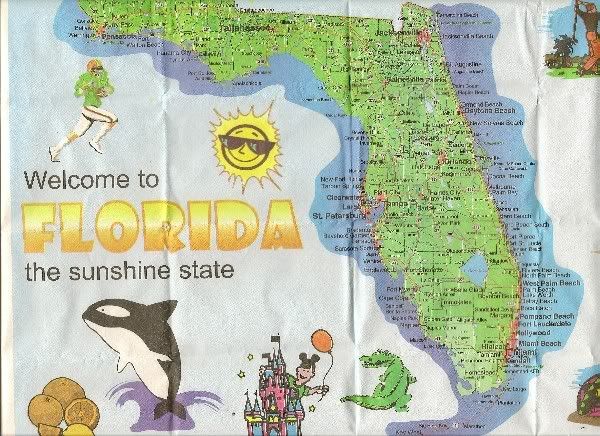 On Tuesday I went on one of my dad's business trips to Florida with my dad and Sarah Grace and James.
Our first stop was in Charleston, SC to eat lunch with a client of Dad's at Sunfire Grill. I ordered shrimp and fries because the shrimp and grits were too spicy for me. Shrimp and grits are a specialty here. I had a taste of Sarah's and then I had four large glasses of ice tea before we left. They teased me once we got on the road because I had to keep asking Dad to stop every five minutes, or so it seemed.
Our next stop was at Cracker Barrel in Georgia for supper. Guess what the pretty waitress kept filling my glass with? I couldn't tell her no because I fell in love with her.
I slept through most of Georgia and we got to the Courtyard Marriott at 11PM. We unpacked, brushed our teeth and went right to bed. But first the hotel gave me two toothbrushes and a tiny tube of toothpaste because I left mine at home. I left the can of wrinkle remover, too. And a pair of pants Mom bought me for the trip in the dryer. Every time it was discovered that I left something they would all look down on me and say, "JOOOHHHNNN!" I am a forgetting buffoon.
The next day Dad went about his business and did not tell us he was taking us to.... GAINESVILLE! Gainesville is the home of the University of Florida and our beloved Florida Gators football team. Dad lived in married student housing when he was a little boy while his father was getting his MBA and Ph.D. It was a happy time for my father so we are all Gator fans, too.
While we were there we saw Tim Tebow and Percy Harvin and Urban Meyer practicing. Tim Tebow was a homeschooler like we are and he won the Heisman last year. We are very proud of him.
We ate supper at The Swamp which is a restaurant across the street from the stadium.
We also saw soldiers marching around the stadium with bayonets.
When we were in Jacksonville we saw the Jaguar stadium.
The day we left we ate at a restaurant that serves alligator and it was great. It was a little chewier than the alligator Sarah Grace made but it was still good. They served large portions and we kept eating and eating but the pile would not go down! Next time I will try frog legs.
I noticed on the trip that the bacon was chewy, not crispy like Mom's. I like crispy better.
I got a muffin and fried potatoes and peppers and strawberries at the breakfast buffet. It was really good.
I almost forgot to tell you about Puppy. The Friday before this past Friday, Puppy almost died. Puppy is an affectionate sheep that always comes to us for lovin'. She is like a puppy and we love her so.
When Spence went out to feed Uncle Bob, he found Puppy lying on the ground bloated with her legs kicking. He and Will gave her vegetable oil and massaged her stomachs but Will thought she was a goner. He didn't think she would live 30 minutes. They called Mom and Sarah Grace and James in Lexington and they came home, stood her up, and massaged her and prayed to God to save her. Mom was crying so hard because she loves that girl to bits. And the Lord did save her and we are so thankful.
If a sheep goes down and bloats, it will die if you don't catch it fast, and even then it might still die. She is now in a trailer in the carport while her nerves in her shoulder heal. Dad gave her anti-inflammatory shots in her muscles. She's going to stay up near us while she heals for another week.