Last night was one of the best nights I've ever had. We got an early Christmas present, and one of the best Christmas presents ever! Dad got six tickets to the USC/Florida football game. We'd never been to a college football game before. In fact, the only in person game we ever went to was a high school football game a few weeks ago. They are nothing alike, except for football is played at both.
To top it off, our neighbors, Dr. and Mrs. Stafford, invited us to go to their tail-gaiting before the game. It was really, really, really, fun! We ate cheeseburgers and hotdogs and appetizers like apples and caramel and melon and chips with salsa and cheese cubes and they had those toothpicks with colorful plastic curls. They also had brownies for dessert. The brownies had nuts inside and they weren't too fudgy and they weren't too cakey. They were just right. Mrs. Stafford had everything imaginable there. She even had a candelabra but it was too windy to light. The people there were relaxed and funny and it felt comfortable.
Mrs. Stafford is a USC fan so she teased us with her gator on a noose.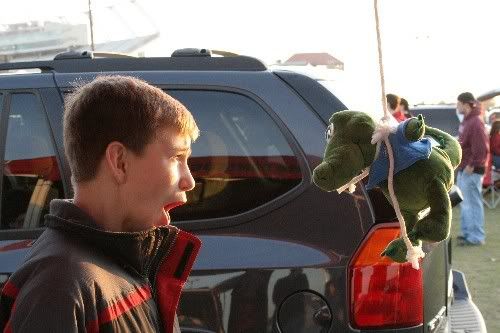 Here we are with the Chick-fil-A cow:

Here we are with the 80,000 other people at Williams-Brice Stadium:

When we got to the game, we saw Tim Tebow. He is so good-looking and you can tell he does an excellent job brushing his teeth because his uniform was covered in grass stains and dirt but when he smiled, his mouth lit up like an Orbit gum commercial.
We had posters there with one that said "HOMESCHOOLERS LOVE TEBOW" (Tim Tebow was homeschooled, too.) and the other one spelled out ESPN with "TEBOW IS SUPER MAN" but the "SUPER" was crossed out and "HEIS" was written in. We got on TV three times! My Mom was screaming like a wild Indian when she saw us, I'll bet. We TiVoed it and we saw ourselves last night and this morning.
It was a wonderful Christmas present that we'll never forget! And to all those Gator fans we met... ROCK ON! And GO GATORS!